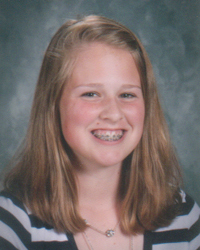 Molly Yockey
Shelbyville Moulton
Principal: Bill Myers
As a runner, Molly Yockey experienced first-hand the value of good sportsmanship.
"My first track meet was very nerve-wracking," says Molly. "I knew there was going to be a very experienced runner in the race since she got to run when she was in 6th grade. I did not know what type of person or competitor she would be. When we got in the starting box, I said hello to her and we started having a conversation. At the end of the race, we both hugged and now we are best friends. We both know that it's not about who wins, it is about our friendship and working together. She was my inspiration to be a better runner."
With that inspiration, Molly made it to the state cross country meet last season, where she finished 16th out of 234 runners, good enough for All-State status. "During the summer I set my goal to be an All-Stater my 8th grade year," she recalls. "To be an All-Stater you must finish in the top 25 in the state meet. To meet my goal, I ran more during the off-season and did abdominal workouts and push-ups daily. I was very proud to receive my All-State award."
The 2011 Scholar Attitude Award winner from Board of Directors Division L, Molly has earned a perfect 4.0 GPA, and she has participated in cross country, track, volleyball, chorus, show choir and the Moulton talent show. She has served as secretary of both student council and 4-H and this year, she is president of student council.
Molly plans to join jazz choir in high school and to audition for the school plays and musicals. After high school, she would like to attend Millikin University to study Physical Education, hoping to help keep the next generation healthy.