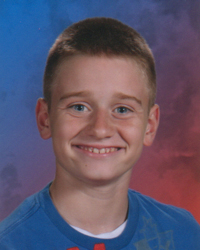 Thomas Bane
Mahomet-Seymour
Principal: Jeff Starwalt
Olympic gold medalist Dan Gable once said, "Gold medals aren't really made of gold. They're made of sweat, determination, and a hard-to-find alloy called guts." Thomas Bane, the recipient of the 2011 Scholar Attitude Award from Board of Directors Division K, hasn't reached the gold-medal level of wrestling yet, but he's well on his way when it comes to sweat, determination and guts.
In 2008, Thomas tasted victory in wrestling. "I am most proud of winning the IKWF state wrestling championship 84-pound division in 2008," Thomas writes. "I spent a lot of time before the wrestling season had even started attending camps and practice sessions to prepare myself." He continues, "To give myself the hardest competition possible, I wrestled up an age group. The state meet was a long day, during which I wrestled four kids to get to the finals. My hard work paid off when I beat my opponent 9-2."
But then, as a 7th grader, Thomas was disappointed to suffer an injury to his knee cartilage right after the IESA regional meet, sidelining him before he could get to state. Still, his desire to win, to make it to state after that disappointment, gave him the drive he needed to work harder, train longer, and come back as an 8th grader. This year, Thomas not only made it to state – he made it to the championship match in the 126-pound weight class. Now he plans to wrestle at Mahomet-Seymour High School, long a hot-bed for wrestling in the state of Illinois.
Thomas has qualified for state in both track and wrestling, and he's made High Honor Roll every quarter of junior high so far. Out of his 7th grade class, he was chosen to receive the Luke Busch HEART Award for his helpfulness, effort, acceptance, respect and tolerance.