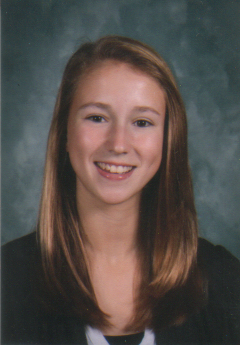 Laura Vendal
Champaign St. Matthew
Principal: Petrece Klein
Laura Vendal has always been a good student, but she found it a lot harder to maintain her standards when her family moved to a new school just before she entered 7th grade. "At the beginning of the 2009-10 school year, my family moved from Grosse Pointe Woods, Michigan, to Champaign, Illinois," Laura relates. "I had no friends in Illinois and had never traveled here before. For anyone, this experience would be exciting, but also difficult."
As the oldest of four children in the Vendal family, Laura felt she had to "put on a good face" and find the positive side of this new life. "I have always been outgoing and athletic, so joining the basketball team was a no-brainer," she says. "I met the other eleven girls on the team and quickly made new friends. Next, being on the volleyball team enhanced those previous friendships and I even made new ones. I started to become more comfortable in this new place we called home."
Because of the move, Laura is very happy to have been noticed and nominated for the 2011 Scholar Attitude Award from Board of Directors Division K. "I am proud that my principal, Mrs. Klein, and Athletic Director, Mr. Mears, have noticed my achievements since they've only known me for a short time," she says.
Her Raiders basketball teams placed 3rd at state in 2009 and 4th at state in 2010, and her volleyball team won both its regional and sectional this year. Laura also participated in drama club, Scholastic Bowl, the Science Olympiad, and peer mediation at St. Matthew's. She is a member of the National Junior Honor Society, and she works with the Indian Acres Swim Team as well as the Fellowship of Christian Athletes and Wyldlife Youth Group.