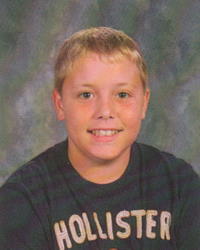 Andrew Hardy
Nauvoo-Colusa
Principal: Kent H. Young
Andrew Hardy, the 2011 Scholar Attitude Award winner from Board of Directors Division J, excels in every arena.
In baseball, on a team that made it to state, Andrew won his team's Golden Glove award and was named its Top Hitter.
In basketball, he was his team's top free-throw shooter and best defensive player.
And in the classroom, he has a perfect 4.0 GPA. He's received academic honors every semester, and he even had perfect attendance.
Andrew has also participated in student council and on the track team, and he plays YMCA baseball and football. He definitely expects to continue baseball and basketball in high school, and to add football and Future Business Leaders of America to his schedule.
"One significant benefit you get from participating in interscholastic activities is leadership," Andrew writes. "You learn how to start leading your team, and then you use it to start leading your school." And eventually, he plans to apply those same skills to leading a business, and then his community.
But if you think that means he wants to be the next Bill Gates or Donald Trump, think again. Andrew has set his sights on becoming a dentist. "The reason why I want to go into dentistry is because every time I go to the dentist, it's fun," Andrew says. "I want to give that type of experience to other kids, too." It doesn't hurt that he is, he says, just plain fascinated by teeth.