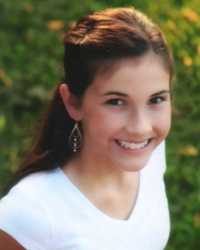 Addi Ippensen
Payson Seymour
Principal: Kirk Mosley
The old adage "I will find a way or make one" fits Addi Ippensen to a T. Addi wanted to work with student council. But her grade school and then her junior high did not have student councils. Undeterred, Addi took it upon herself to organize student councils for both schools.
"I am really proud of starting these two student councils," she says. "It takes a lot of guts to start something that you don't know if people will want to join or if the teachers will even accept the idea." But now, because of Addi, students in those schools have a say in school functions, and they can help out at fundraisers and other activities. Addi herself acted as president in both grade school and junior high, and this year, she is vice president.
Addi's student council experience shows her leadership skills, and she credits her interscholastic activities, like volleyball and softball, with helping her in that area. "All of my coaches have encouraged me to step up and assume the leadership role," Addi writes. "It is a great honor to be trusted by my coaches and my teammates."
Addi is the recipient of the 2011 Scholar Attitude Award from Board of Directors Division J. In other honors, she was named Most Dedicated and Top Server in 7th grade volleyball, and she was selected as MVP for band in 5th, 6th and 7th grades. She also received awards in solo and ensemble music contests and a Presidential Academic Award, and she made Honor Roll every semester of junior high. She has taken dance for ten years, and she performs all over with her dance team, plus she participates in 4-H and she is very active with her church. She would like to attend the University of Illinois and go into law or politics, continuing her leadership path.