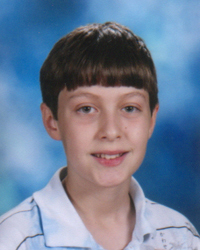 John Gagnon
Cerro Gordo
Principal: Gary Page III
If John Gagnon does not keep pace with his companions, perhaps it is because he hears a different drummer. Or because he is a drummer, content to set his own pace.
There's no question that John, who is the recipient of the 2011 Scholar Attitude Award from Board of Directors Division I, is a terrific drummer and percussionist. He made it to the IMEA festival as a 6th grader after competing against 7th and 8th graders for a spot, and he took 1st in IESA solo and ensemble competitions as a 7th grader in snare, drum set and piano, with his drum solo selected as the best of the day.
John would like to attend the University of Illinois or the Berklee School of Music in Boston and obtain a degree in music, so that someday he can be a music professor. He is also an excellent student, with a perfect 4.0 GPA. He's been named Student of the Month twice and Student of the Year last year, and he has academic awards in social studies, math, science, literature and language. But as he himself says, "I am not defined by just my music or my intelligence because I am the sum of all my parts and experiences."
That includes success in literary and Scholastic Bowl competitions, basketball, baseball, marching band, and school musicals, and serving as president of student council the past two years. And then there is his rocky stint as a runner. "When I participated in track, it was particularly hard for me because I had to run against older kids, and I not only lost but came in last every race," John writes. He considered quitting. Instead, he focused on his own performance and tried not to compare himself to anyone else. "It gave me a stronger appreciation for the things I do well and not to take them for granted," he says. "It was a valuable lesson to learn to accept that through life sometimes we are going to come in last." Or maybe he was just running to the beat of a different drum.