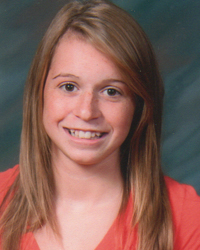 Betsy Olson
Lincoln West Lincoln-Broadwell
Principal: Bailey Climer
Making it to state with her volleyball team has turned out to be both Betsy Olson's biggest achievement and biggest setback. Betsy was very proud to make it to state, especially as a 7th grader on the 8th grade team. As Betsy tells the story, "It was the first time I had ever been to state in any sport. It was also the first time in sixteen years that my school had made it to state in volleyball." Her team won their regional by beating their biggest rival, and then won their sectional by playing the best they ever had.
Unfortunately, their run ended in the first game at state, where they faced Grayville, the undefeated defending state champs. "Grayville was on fire. We, however, were not on top of our game," Betsy explains. One bad match and... "We were officially out of the state tournament. At the time I felt like it was the end of the world, but once I got home I realized that it didn't matter that we lost. My coach said to us, 'It doesn't matter where your journey ends. What matters is the journey that got you here.' Turns out, my coach was right."
Betsy, the 2011 Scholar Attitude Award winner from Board of Directors Division I, has played volleyball and basketball at West Lincoln-Broadwell, and also competed in cheerleading and track and field, where she made it to sectionals in the 4x100-meter run, the 100 meters and the long jump.
Along with three years on student council, Betsy has volunteered in all sorts of school activities, from pancake breakfasts to dances and dinners. She also volunteers with Relay for Life and Toys for Tots, and helps out at her church, St. Patrick's. She has received High Honors all three years, was noted as the Outstanding Art Student in the 6th grade, and took home a citation for perfect attendance in 7th grade.