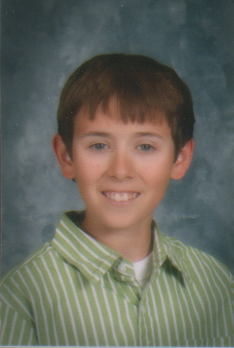 Eric Whalen
Normal Epiphany
Principal: Richard Morehouse
Eric Whalen admits that he has grown up in the shadow of two very successful older siblings. While that might be discouraging to some, to Eric, it's a motivation and an inspiration.
"The person that I admire most is my older brother Patrick," Eric says. "He is a very smart, generous and caring person." Eric looks to his older brother as a great example of how to balance grades and activities, and also which activities to pursue. He says, "During his high school years he participated in cross country, Scholastic Bowl and track. I think this is the reason I became interested in these activities."
Even so, Eric likes to strike out on his own, too. "The one single achievement of which I am most proud would be being nominated for this award. I was very proud to be the only person in my school to be chosen. Neither of my siblings was awarded it," he explains. "It always feels nice to be recognized."
Along with cross country, track and Scholastic Bowl, Eric has participated in band, choir and student council, and he served as president of student council. He was nominated to participate in the Northwestern Midwest Academic Talent Search by his teachers, and he also took an advanced algebra class at a local high school this year. At first he wasn't sure about taking a class like that, with so many new people from other schools, but he relied on lessons learned from interscholastic activities. "My confidence level is higher because I get to interact and have fun with different people," Eric concludes.
Eric Whalen is the recipient of the Scholar Attitude Award from Board of Directors Division H.