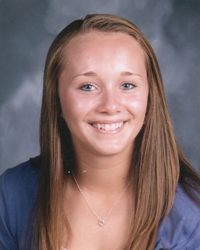 Lauren Anderson
Mackinaw Dee-Mack
Principal: Michele Jacobs
Although Lauren Anderson, 2011 Scholar Attitude Award winner from Board of Directors Division H, has racked up honors on the field, on the court and in the classroom, what she will take away from Dee-Mack Junior High is not about the honors. Lauren's life was touched by a teacher named Darci Patton, and she will never forget the lessons she learned.
"The person I most admire is Darci Patton," Lauren writes. "She was the 7th and 8th grade science teacher at my school who passed away this past fall due to cancer. I most admire Mrs. Patton because she always had a smile on her face and loved her job. No matter how bad of a day she might have been having, she would never show it." She concludes, "Mrs. Patton loved life and made the most of it."
And that's also why, if she could make one change in the world, Lauren says she would cure cancer, and why she would like to attend Northwestern University or the University of Minnesota, to possibly study oncology. It all comes back to Mrs. Patton. "I do everything I can to get the highest grades in science and to be the finest student for her," Lauren says.
Lauren's 7th grade volleyball team won the Class 3A state championship, and she was named Outstanding Team Player and won awards for Most Digs and Most Aces on that team. She has been named MVP in both softball and basketball the past two years, and she qualified for the state track meet in the 4x400 relay and the discus.
Dee-Mack Junior High has given her awards in science, reading and physical fitness, and she has made the Straight A Honor Roll every semester with her perfect 4.0 grade point.