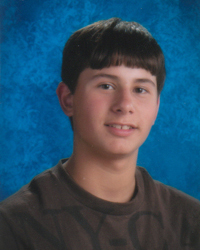 Ben Jennings
Cissna Park
Principal: Nick Chatterton
Positive attitude is what Ben Jennings is all about. "I have learned that if you have a good attitude then people will want to be around you," Ben writes. "That helps me on the basketball court, because my teammates look up to me. If my energy level is up, then their energy will pick up, too."
Energy, enthusiasm and that positive attitude are part of the reason he has won the 2011 Scholar Attitude Award from Board of Directors Division G. They're also behind his biggest accomplishment so far – starting on Cissna Park Junior High's 7th grade basketball team as a 5th grader and winning a state championship. "After we had won," Ben says, "I felt so proud of myself for working so hard at basketball. I have been going to basketball camp in the summer since I was in the first grade. I would spend weekends in the gym working on my ball-handling, shooting, defense, rebounding, and anything to improve my overall game." He may have been a 5th grader on a 7th grade team, but he was still ahead of the game.
Ben has also played baseball and run track since 5th grade. His baseball teams have won three regional championships, while in track, he is a three-time state qualifier, competing in the 100-meter hurdles, the 800-meter run and the shot put. He sings in the chorus and plays in the band, serves on student council and participates in Team Quest. With his church, he traveled to New Orleans to help those affected by Hurricane Katrina.
In high school, he definitely wants to continue basketball and baseball, and add football, too. He'd love to keep playing the baritone in the Pep Band, and he'd also like to join FCCLA in order to learn more about the culinary arts. Band, basketball, baseball and baking... Variety is, after all, the spice of life!