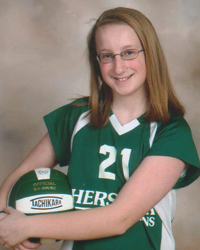 Jessie Maass
Herscher JHS
Principal: Michelle Vincent
Jessie Maass knows a lot about victory. Her volleyball teams at Herscher have won their regionals and sectionals, making it to state, her Scholastic Bowl team won their regional, her basketball team took second at the Kan-Will Tournament, and her math teams qualified to compete in the Math Counts competition.
"There's nothing like the roar of the crowd, the cheers of your teammates, the coaches applauding, all if you win," Jessie says. But she knows that winning doesn't come just because you want it to. It takes perseverance, teamwork and "chugging away," especially when you have to come off the bench to earn a place as a starter.
Jessie says, "Through volleyball, basketball and Scholastic Bowl, I've learned things will not always be easy. During these activities, I didn't 'start' anything at all, but after about halfway through the season, I would be 'starting.' That made me very proud of myself." She adds, "I learned that your team can be down by a lot, but if you keep chugging away, you can pull it off."
Aside from volleyball, basketball, math and Scholastic Bowl, Jessie has participated in orchestra, jazz band and student council, and she plans to keep most of those on her resume in high school, while adding speech team, too. Her most admired person? Left-handed White Sox pitcher Mark Buehrle. "He is a great role model for young athletes," she writes, noting that he was cut – twice – from his high school baseball team. "He works hard and doesn't give up." Works hard. Doesn't give up. Sounds a lot like Jessie.
Jessie Maass is the 2011 Scholar Attitude Award recipient from Board of Directors Division G.