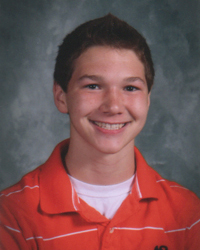 Justin Bettenhausen
Dunlap Valley MS
Principal: Jason Holmes
As a member of the first class through the doors at Dunlap Valley Middle School, Justin Bettenhausen has been part of a lot of "firsts."
"When I started middle school, it was the grand opening of Dunlap Valley," Justin recalls. "Everything was new and a first." But with that blank slate, he and his classmates were also given the opportunity and the responsibility to start things off right. "We experienced how attitudes and choices created a supportive school," he says. "The staff, right from the start, reminded and encouraged students to show respect to everyone."
Justin and his basketball teammates took that support and encouragement and ran with it, all the way to state. "Representing Dunlap Valley Middle School as a team captain and a starting 7th grade Spartan was a tremendous feeling," Justin writes. "This was a first for our school, and though we were thrilled to be there, no one knew for sure if we could compete." As he tells the story, both teams played well, but "In the end, we lost by two points in the final seconds." It was tough to bear losing in such a close game, but Justin says, "I am thankful to have had the chance to play at state. I carry with me an overwhelming urge to do it again."
Recipient of the 2011 Scholar Attitude Award from Board of Directors Division F, Justin has made Academic High Honors all three years of middle school and he has a perfect 4.0 GPA. He has been a member of the Singing Spartans and has competed in solo and ensemble music competitions as well as the science fair. He's played basketball and track, making it to the Elite 8 in basketball and to the state track meet in the 4x200 and 4x400 relays. And his prowess with "mathematical art" earned him a place in the 6th grade Candy Wrapper Hall of Fame.