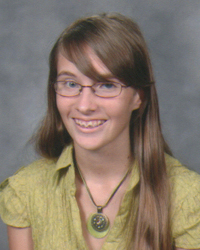 Taylor Armbruster
Elmwood
Principal: Tony Frost
Taylor Armbruster, the 2011 Scholar Attitude Award winner from Board of Directors Division F, has a unique ability to keep her feet on the ground and her head in the clouds. For Taylor, music goes hand-in-hand with track and cross country, poetry toe-to-toe with science and geography.
That means she dreams of studying fine arts in college some day, and her most-admired person isn't an athlete or a politician. "I most admire the poet Emily Dickinson. She had a vivid imagination and wrote poetry in a style that was not accepted at the time. I would like to use my imagination and create things like Ms. Dickinson did," Taylor writes. "Ms. Dickinson didn't have very many of her poems published during her lifetime, but she wrote hundreds of them. She inspires me to challenge my imagination and be myself."
Taylor has competed on Elmwood Junior High's cross country and track and field teams, as well as the Scholastic Bowl, Science Olympiad, and geography and spelling bees. She sings in the chorus, plays clarinet in her school's concert band and keyboards in the jazz band, and she made Honor Band two years in a row. She was named her chorus's Outstanding Musician in 7th grade, she's won eight different citations, including six 1st place ribbons, for Declamation, she's placed in the West Central Conference Art Festival and Honor Chorus, and last year she was nominated to the National Young Leaders State Conference.
"The National Young Leaders State Conference is a teacher-nominated conference that only a select number of students are invited to attend," Taylor says. "I was nominated for my academic achievement, maturity and leadership potential. This accomplishment makes me very proud."