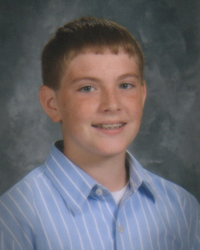 Cody Hatzer
Pontiac St. Mary's
Principal: Sharon Warfield
For Cody Hatzer, sportsmanship is not just about sports. "It doesn't have to be in sports," Cody says. "It could be in competing for a job, a role in a play, or a solo in chorus. Good sportsmanship is important in everything you do."
Cody is on the St. Mary's speech and math teams, and he participates in chorus, band and student council, as well as basketball and track, finding that each of those activities and sports has something different to offer. "Participating in the math contests helped me to work on my skills to be competitive and knowledgeable," he writes. "Basketball has helped me to be a team player. Speech team helped me to branch out and try new things."
But his biggest achievement has been on a different stage. "My proudest moment this far has been being chosen for the lead role of Mowgli in The Jungle Book," Cody says. "When I first started participating in the summer community plays in Pontiac I was extremely shy. Through the small roles in the beginning I was able to chase away some of my fears. The more I was in front of people, the more outgoing I became."
Along with the 2011 Scholar Attitude Award from Board of Directors Division E, Cody has been named to the St. Mary's High Honor Roll all four years and the Straight A Honor Roll twice. His 7th grade basketball team took 4th place at state, plus he won 1st place honors in chorus in both duet and solo, he was named to the Illinois Music Educators Association District Chorus, and he took 3rd place in the Science Triathlon. And he's received three years of Presidential Fitness awards.
Cody hopes to attend the University of Notre Dame someday, with plans to become an architect.