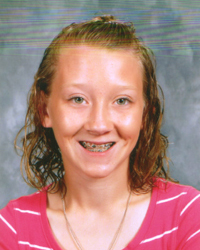 Caitlyn Klein
Flanagan
Principal: Derek Sieg
Flanagan's Caitlyn Klein is all about balance. To Caitlyn, that means finding time for basketball, softball, volleyball, track, Scholastic Bowl, singing in chorus, playing piano and student council – and doing them all well – while also maintaining her perfect 4.0 GPA.
"I am most proud of the way I have been able to balance out academics and extracurricular activities," she says. "I am involved in most sports and am still able to get all A's in my classes. I have to get good grades to be involved in sports and I feel proud that I'm still able to achieve High Honors even with my late nights on game days."
Winner of the 2011 Scholar Attitude Award from Board of Directors Division E, Caitlyn has been named Student of the Month at Flanagan Grade School, plus she's been honored with Presidential Fitness, Principal's and Falcon awards. She's also been commended for Outstanding Hustle in volleyball and for having the highest grade point average in social studies.
Outside of school, Caitlyn has worked with her church youth group, on local swim teams and with 4-H, she has volunteered at the St. Jude's fundraiser and at the local food pantry, and she helped teach Sunday School.
As she goes on to high school, Caitlyn hopes to continue her balancing act, keeping up her grades while competing in basketball, her favorite sport; volleyball, to improve her teamwork skills; softball, to add responsibility; and student council, to expand her leadership skills. "I believe that all success comes from the will to win and the determination to give it all you have," Caitlyn concludes.