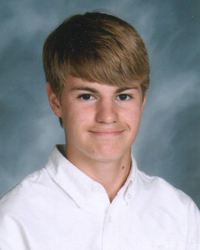 Andrew Robbins
New Lenox Martino
Principal: Bonnie Groen
"Knowledge is power," says Andrew Robbins, recipient of the 2011 Scholar Attitude Award from Board of Directors Division D. He adds, "Empowered people can do great things." And that's why he believes that improving access to education is the key to improving the world.
In Andrew's own life, his pursuit of knowledge is already making him a power to be reckoned with. His ultimate goal is to follow in the footsteps of Dr. Stephen Wolfram, to better the world of technology through his passion for science, physics, math and computers. Given Andrew's dedication, clear thinking and curiosity, that goal doesn't seem so far away.
"What makes the moon visible at night?" he asks. "What gives a rocket its thrust? What powers the computers we depend on? The answer is energy."
So far, the energy fueling Andrew has propelled him to join the cross country team at Martino Junior High, and then to keep working, keep improving, until finally, he won his sectional and finished 3rd at the state meet. He also runs the 1600-meters in track, participates in yearbook, science and computer clubs at school, and acts as the statistician for the Martino 8th grade boys' basketball team. A member of the National Junior Honor Society, Andrew has been named an Academic All-Star for computers and history and he's made High Honor Roll every trimester since 5th grade.
After high school, he plans to study physics and software engineering, with an eye on making people's lives better through "organic" software. If knowledge is power, then Andrew Robbins is set to be one powerful young man.