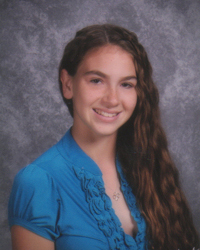 Christy Carlson
Lockport Oak Prairie
Principal: Mark Murray
When Christy Carlson talks about sportsmanship, she knows it means a whole lot more than just one idea or concept. Respect, integrity, responsibility, friendship, leadership – even fun – they're all part of what Christy thinks sportsmanship should be.
"My dad always says, 'Except for the champion, everyone in the tournament loses their last game,'" Christy writes. "When I think about this, it shows me that sports must be about other things and not just winning." She adds, "If you didn't play fair or work hard or you cheated, then you really didn't win, anyway."
Christy is the 2011 Scholar Attitude Award winner from Board of Directors Division D, with straight A's and a perfect 4.0 GPA in Oak Prairie Junior High's accelerated curriculum. She was elected president of her school's National Junior Honor Society this year, she's made High Honor Roll throughout junior high, and she was one of only two girls chosen to attend the Girls in Engineering program at Argonne National Laboratory.
As a member of the softball, basketball and volleyball teams at Oak Prairie, Christy was very happy to make it into the Elite Eight last fall in both softball and basketball. And her summer softball team won the Illinois State championship in 2009, with Christy on the mound.
Christy was also selected as a basketball conference All-Star in 7th and 8th grade, and she's a member of the concert and symphonic bands and a participant in District 92 Dance Club. She volunteers with the American Cancer Society Relay for Life, the Will County Health Department and at her local animal shelter, and works as an "Angel in the Outfield" to help those with disabilities play baseball.