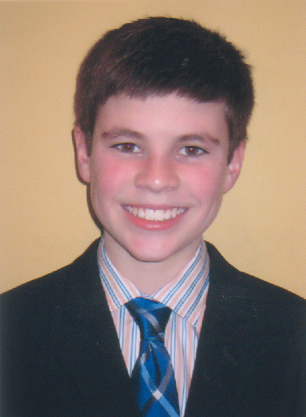 Jack Tuttle
Clarendon Hills Notre Dame
Principal: Mary Ann Feeney
According to Jack Tuttle, recipient of the 2011 Scholar Attitude Award from Board of Directors Division C, the people he admires most are his parents. "They are both amazing," he says. "They have been great role models to me throughout my whole life."
Jack is carrying on that family tradition, acting as a role model himself, to the students and athletes who come after him at Notre Dame. "In my current 8th grade year," he writes, "I participated in cross country. Cross country at my school consists of 5th through 8th grade boys and girls. I was the only 8th grade boy on the whole team. Our team was very small and more than three-quarters of the entire team was in 5th or 6th grade. This experience gave me the opportunity to try to be a great role model. Over the course of the season, I felt I did a good job being a leader for the younger kids on the team. At the end-of-season party, I received the team leadership award."
Stepping up as a leader, he's also been a class representative to student council for two years, and he considered running for student council vice president, even though the idea of campaigning – including making speeches in front of the entire school– was definitely outside his comfort zone. "I did not want to do this," Jack confesses. "However, under the urging of my entire family, I decided to run for vice president. Even though I did not win, I felt my running was a big leap for me. I am proud of myself because I tried something new and was willing to take a chance on a new experience."
Jack has competed in cross country, track and basketball, and he's also participated in math team, Scholastic Bowl and "Book Talk Mornings." He has made Academic Honor Roll (First Honors) all four quarters of 6th, 7th and 8th grade. After high school, he hopes to attend the University of Illinois, another family tradition.