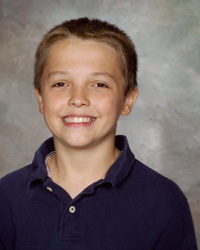 Zach Schrank
Rockford Lutheran
Principal: Donald Kortze
Zach Schrank has learned that winning isn't everything. And losing isn't the end of the world. To Zach, either one is a lesson learned. "The people that can take losing or winning and put it to good use are the ones that succeed," Zach concludes. "The ones that throw tantrums when they lose or gloat when they win don't get any better."
He admits that when he started wrestling, he expected to win every match. "My thinking was that if I didnít win, it wasn't fair," he says. "Wrestling matches I didn't win that first year were like getting stabbed in the back. I would cry and wallow in self pity."
But he soon realized that his actions were hurting not just him, but the people around him, and he started trying to behave better. "Every time I wouldn't win, I would suck it up and learn from it. I would calm down and congratulate the person that had bested me. I kept meeting new people that way," he says. "I made friends from all sorts of different schools all over Illinois. I began to acquire a sharper mind and a happy attitude."
From losing came a different kind of winning Ė the kind that comes from improving, learning, and growing as a person. "I started feeling more confident in myself," Zach notes. "I was happier, and things came easier to me. Every joy seemed a little bit more enjoyable. The focus I gained from wrestling kicked right into my school work."
Zach has been named the 2011 Scholar Attitude Award recipient from Board of Directors Division B. He is also a straight A student, making Honor Roll since 3rd grade, and he participates in football as well as wrestling. And just to round out his schedule, he's been involved with Toys for Tots, the Salvation Army's bell-ringing corps, and Rockford Lutheran Academy's Fall Festival.