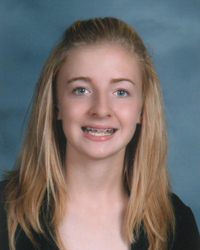 Kennedy Dinges
Amboy
Principal: Joyce Schamberger
"Sports do not build character. They reveal it." The quote is from John Wooden, long-time UCLA basketball coach and one of the winningest coaches in college basketball history, but it speaks volumes to Kennedy Dinges.
"We must remember that sports are not just for wins and losses," she says. "It is about the love of the game and what it reveals about one's character. Character is the true value of sportsmanship."
That's why the feat she is most proud of is being nominated to be a member of the Junior Beta Club at Amboy Junior High. "To be nominated for Junior Beta Club, you must have good grades, good behavior, be trustworthy, have good leadership skills, good character, and volunteer," Kennedy says. "To know that your teachers recognize you for the things you do and how hard you work is rewarding. I very much appreciate the recognition."
Kennedy, the 2011 Scholar Attitude Award winner from Board of Directors Division B, has competed in volleyball, basketball and track, and participated in student council, speech team, band, computer and science clubs, as well as a violence-prevention group this year. She was named captain of both her volleyball and basketball squads and president of the band and the Junior Beta Club.
She would like to attend Northern Illinois University, with the idea of becoming either a teacher or a physical therapist in her future. "Teaching interests me because, for one, I admire teachers, and two, I come from a family of teachers," Kennedy writes. Physical therapy also intrigues her, because, she says, "I love to watch others progress and to make a positive influence on people's lives."