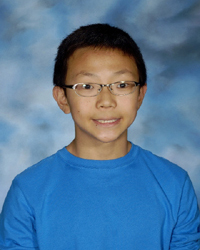 Paul Kim
Prospect Heights MacArthur
Principal: Steven Lee
It's clear that family is very important to Paul Kim, recipient of the 2011 Scholar Attitude Award from Board of Directors Division A.
First, there's his mother, the person he admires most, who overcame a very dire diagnosis of breast cancer. "Her love and optimism of recovering united our family and was absolutely astounding given the fact that she was bearing such a tremendous burden," Paul writes. "My mother is responsible for all the success I have had. For this, I shall be eternally grateful, and I will always try to follow in her footsteps."
And then there's his brother, with whom he shares Tae-Kwon-Do. Paul says, "My brother and I had set the goal to become 2nd Degree Black Belt a very long time ago, and from that point, we worked our way up the ranks. Supporting each other, my brother and I made a pledge to never give up and to always give more than one hundred percent."
Paul has widened that family aspect to include teammates and competitors, realizing that "Many of my relationships at school were formed through interscholastic activities and close friends help greatly in bad circumstances." He adds, "When I jumped onto the track, the wrestling mats, or the basketball court, it seemed as if my burdens had been washed away."
Paul has run cross country and track and field, qualifying for state in both and setting a MacArthur record in the 4x100 relay. Awarded his school's "Mac-nificent Marauder" Award, Paul has also competed in wrestling, basketball, swimming, math, geography and music, and he plays clarinet in the concert band, jazz ensemble and symphony orchestra. He would like to attend West Point someday, with the hope of going into medicine.