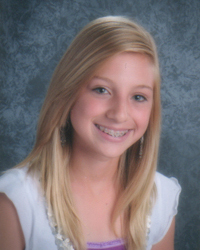 Hannah Skoog
Antioch
Principal: Stacy Graff
When it comes to "attitude," Hannah Skoog, is an expert. "Attitude is to continue when your body says to slow down," she writes. "Attitude is sacrificing for your friends and teammates. Attitude is playing for the love of the game."
She describes how she came to that conclusion. "We are down by two runs and it is the top of the fifth. We already played three games today in 90-degree heat. My face is beet red and my body is aching from two hard days of sliding, bending, swinging and throwing." As her team faces the defending IESA state softball champion, as she struggles to stay focused, she hears "Just keep throwing strikes, Hannah!" from the coach. She realizes, "This is a pivotal moment for me regarding attitude. I have a choice. Do I quit? Who would blame me with the heat today? Or do I stay committed to do my best?"
Committed, doing her best, Hannah stayed in the game. And lost. Her conclusion? "It was still a blast." In fact, her team took a "leap for joy" picture with the other team during the awards ceremony.
Winner of the 2011 Scholar Attitude Award from Board of Directors Division A, Hannah has a perfect 4.0 GPA, starts at point guard on her basketball team, plays volleyball, dances, competes in Scholastic Bowl and sings in the Honors Choir. In track, her team earned the 2010 IESA 7AA state championship, and in Little League, her teams have won state the last two summers. "This was the second year in a row that we won state with my dad as coach, and our team has truly become a family," Hannah tells us. "It was a dream come true."
With her winning attitude, Hannah will continue to "leap for joy" wherever she goes.