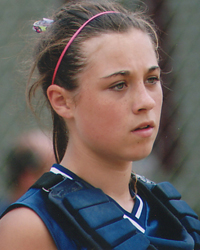 Natalie Fortner
Wenona Fieldcrest
Principal: Mr. Doug Roberts
Natalie Fortner is no stranger to winning. "I'm lucky enough to be in a class with a lot of athletic, competitive girls," she writes. "From being state runner up in softball to being 18-1 in volleyball, we don't lose a lot."
But she knows that good things can come from keeping a positive attitude in the face of challenge or even defeat. On the road to state, her softball team had to persevere through a 17-inning game and, as the smallest school in 2A, keep their resolve and focus against much larger teams. After falling to Manteno in the title game, Natalie admits, "At first I was really depressed after losing, but after being acknowledged at a school assembly as the first softball team from Fieldcrest to get to state finals, I realized what a huge achievement it was and how proud I should be." She adds, "Our pitcher broke several IESA records during the state tournament, and I was very proud that I caught her every game and helped her break those records."
Winner of the 2010 Scholar Attitude Award from Board of Directors Division E, Natalie has maintained a perfect 4.0 GPA as she's played softball, basketball and volleyball. She's also earned high honors every quarter of 7th and 8th grade, served on student council, and earned MVP honors on her 7th grade volleyball team. Natalie was selected as Fieldcrest's 7th grade student champion and she received an award for outstanding academic achievement that year.
Natalie is proud to have donated 11 inches of hair to Locks of Love, and she hopes to continue her volunteer efforts as she moves on to high school. She is interested in becoming a dietician, and hopes to continue to play softball and volleyball all the way through college.