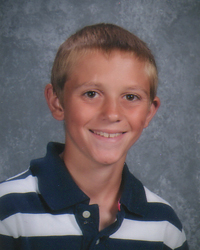 Andrew Geldean
Channahon
Principal: Mr. Chad Uphoff
For Andrew Geldean, recipient of the 2010 Scholar Attitude Award from Board of Directors Division D, it's not about going first out of the gate. It's about building the proper foundation, honing his skills, trying harder and getting better.
"When I first moved to Minooka and first ran the mile at school, it took me 17 minutes to finish," he relates. "That spring, I ran it in eight. Ever since then, I have been dropping my time."
Andrew has been to state twice in cross country, once with his team and once as an individual. "Competing at state, especially in my favorite sport, was just an unforgettable memory," he writes. For his efforts, Andrew was named All-Sectional in cross country.
He has also been a member of the basketball, track and field, Scholastic Bowl, and math teams, and he's won spelling and geography bees. He is treasurer of the Beta Club, an academic and community service group at Channahon Junior High, and he received a Tri-Athlete Award.
Outside of school, Andrew has played travel soccer for three years, acted as a vacation Bible school leader and liturgist at his church, volunteered at a homeless shelter, and earned Junior Ranger status at 19 different national parks.
He plans to take five Honors classes in high school and continue to run cross country and track, play basketball, compete on the Scholastic Bowl team, and join National Honor Society. Starting with a love of Legos, Andrew has dreamed of becoming an architect, and he hopes to attend the University of Illinois to build that dream.