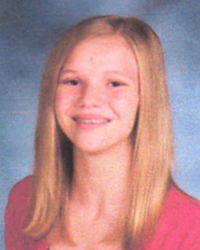 Jana Mudrock
New Lenox Martino
Principal: Mrs. Leslie O'Connor
There's nothing harder than knowing you aren't performing up to your potential. For Jana Mudrock, that became clear after her 7th grade sectional long jump performance.
"At the sectional meet, which qualifies athletes for state, I 'choked' badly and ended up qualifying by only a couple of inches in my last jump of the day," Jana remembers. Instead of celebrating qualifying, Jana could only think about the "choke," worrying that it would happen again at state. "When I went to jump, however, somehow I managed to summon some unnatural strength," she says. Jana jumped 15-3, shattering her old personal record of 14-9. She also set a new school record and came in 12th in state, even though she was ranked 32nd out of 40 girls.
"When I truly believed in myself and had confidence, I achieved much more than I ever could have imagined," Jana concludes. Jana is the 2010 Scholar Attitude Award recipient from Board of Directors Division D.
Her achievements are not limited to the long jump. Jana has also run the 100-meter dash and the 4x400 relay, played basketball and volleyball, and competed in Mathletes and the 8th grade spelling bee. Currently vice president of National Junior Honor Society, she's worked as a "Viking Crusader," helping out the school counselor, participated in the POWER Club, and even taken part in the spring play at Martino Junior High.
During her summers, Jana participates in sports camps for volleyball, basketball and badminton, and she is looking forward to being able to play badminton as an interscholastic sport in high school. She considers architecture as the perfect mix of math and creativity, and hopes to study it one day.