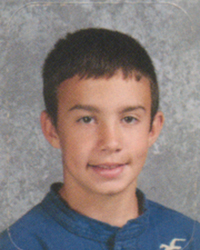 Andrew Kramer
Lemont Old Quarry
Principal: Dr. William Caron
"I never thought about losing, but now that it's happened, the only thing to do is do it right." That quote from Muhammad Ali sums up sportsmanship for Andrew Kramer, winner of the 2010 Scholar Attitude Award from Board of Directors Division C.
"One year, in the sectional meet, my cross country team took first place and qualified for the state finals. I was ecstatic," Andrew writes. "The next year, my team took fourth place and just missed out on a bid to state. I felt extremely disappointed. From my experience, I learned that I shouldn't brag and feel above everyone else, because I eventually was not the champion anymore." Win or lose, Andrew knew he had to do it right.
Although Andrew is proud of his cross country success, he still counts basketball as his favorite sport and NBA player Steve Nash as his most admired person. "He was not the tallest or fastest or strongest, but he worked harder than anyone to become a great player," Andrew tells us. "I also admire him for his unselfishness. He always passes to his teammates and doesn't care about his own stats."
Andrew also competes in track and field, and he has participated in National Junior Honor Society, student council, peer tutoring and the Quarry Man Challenge race crew. He has also been an acolyte and volunteered at a Chicago food depository.
As Andrew moves on to high school, he plans to continue cross country, track and field, basketball and the National Honor Society. His college goals include the study of engineering, possibly at the University of Illinois or the University of Wisconsin.