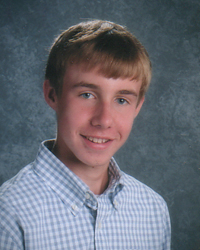 Mark Stice
Sycamore
Principal: Mr. Jim Cleven
When it comes to achievements, Sycamore Middle School's Mark Stice believes in looking outside himself. "The person I admire most," Mark writes, "is the first baseman of the St. Louis Cardinals, Albert Pujols." But it's not for the obvious reasons - the MVP awards or batting average - but for what Pujols does off the field.
"I admire him because he doesn't just support a foundation, he started his own," Mark adds. "This is important to me because I know that even though he has an overwhelming amount of baseball talent, he can still help people less fortunate than he."
Mark competes in cross country, basketball and track and field, and he also participates in 4-H, where he's been the treasurer the past two years, and Lantern for Bible study. He plays park district baseball and also enjoys golf, his church youth group, and helping out with the community Christmas dinner for families in need. Mark was one of three 7th graders chosen to travel to Springfield for the DeKalb County Farm Bureau Legislative Trip, he was named Student of the Month in December 2009, and he made his school's honor roll in 6th, 7th and 8th grades.
Named All-State in cross country this year, Mark also cut his fastest time by more than 30 seconds, won his conference and placed second overall at sectionals. At state, Mark medaled, placing 11th as an individual and helping his team take 16th place.
Mark looks forward to cross country, basketball, baseball and the Fellowship of Christian Athletes in high school, and possibly Arizona State for college. Mark is the winner of the 2010 Scholar Attitude Award from Board of Directors Division B.