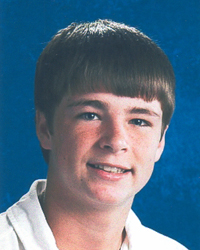 Michael Henderson
Gillespie
Principal: Ms. Lori Emmons
Whether he is playing trumpet in the band, quarterbacking his football team, or leaping to victory in the long jump, Gillespie Middle School's Michael Henderson knows the value of sportsmanship.
And it's not just about being a good teammate or making sure to stay gracious in victory or defeat. It's about taking sportsmanship one step farther. "I think sportsmanship leads to good citizenship," Michael says. "The value of citizenship to me is helping my community in any means possible." That can mean ringing bells for the Salvation Army, recycling, going door to door for a fundraiser, playing his trumpet at a nursing home, or helping clean up a school ravaged by mine subsidence.
Michael is a member of the baseball, basketball, football and track teams at Gillespie Middle School, and he also participates in student council, scholastic bowl, band and choir. He's made honor roll every quarter from 6th grade to the present, and he's taken home a 1st place ribbon in the band solo contest and a 2nd place ribbon in choir ensemble. He was also named All-District in basketball.
Michael looks forward to a busy high school schedule, with football, basketball, track (including relays, long distance running and the hurdles), student council, class office and MPACTD (Miners Preparing and Caring for Teenage Drivers) on his agenda. After that, he'd like to attend the University of Kansas or the University of North Carolina to study math and science.
Michael is the 2010 Scholar Attitude Award from Board of Directors Division O.