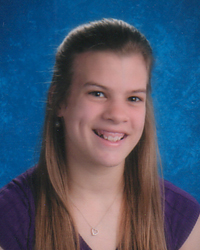 Jacqueline Krawczyk
Freeport
Principal: Mr. Scott Wiley
Jackie Krawczyk has been a cheerleader in a lot of different ways. Yes, she's competed in cheerleading, including being part of a routine that took 1st place honors at the IESA state cheerleading competition. But she's also cheered on her track and field teammates from the sidelines, clapped for fellow actors in school plays, and offered encouraging words for the students she helped as a peer reading tutor.
"As long as you are an athlete," Jackie writes, "you will always know the importance of having someone behind you, cheering you on or catching you when you fall. Then, when that same someone who picked you up falls, you must pick them up and cheer them on, just as they did for you."
Jackie is the 2010 Scholar Attitude Award recipient from Board of Directors Division B. Her positive energy is one of the reasons she was named Most Helpful by her fellow cheerleaders, but also why she's earned high honor roll in 7th and 8th grade, made sectionals in the hurdles in track and field, and took the lead role in her school play this year.
She's also participated in student council, jazz band, choir, concert band, spelling bees, scholastic bowl, World Arts Festival and the Kiwanis Builders Club, and she hopes to continue track and field, cheerleading, show choir and student government in high school.
Jackie continues to take classes in piano, clarinet, saxophone and gymnastics, to broaden her horizons and look to the future. She is interested in studying nursing in college, with the possibility of specializing in neonatal intensive care.