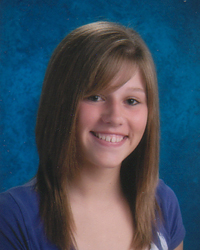 Bailey Schmidt
Carlinville
Principal: Mr. Roy Kulenkamp
Win at all costs? That's not for Bailey Schmidt, the 2010 Scholar Attitude Award recipient from Board of Directors Division O. Instead, Bailey contends, "Playing a sport isn't about winning. It is about learning how to work together with other people and accomplishing the things that you never thought that you could do."
Working with other people is very important to Bailey. "Sports teach you to depend on others when you can't do everything," she writes. "In volleyball, my job is to block and spike the ball when I'm in the front court. I have to depend on the backcourt players to not let the ball drop once it gets past me." Bailey notes that that lesson also applies to school, with group projects, and to life in general, too. In Bailey's world, life is richer when it's shared.
Bailey holds three school records in track. She won her sectional in four events, and medaled in all four events at the 2009 IESA State Track Meet. Her basketball and volleyball teams were conference champions, and Bailey took home nine different awards in volleyball including "Miss Hustle," "Best Server" and "Best Digger."
Bailey has a perfect 4.0 GPA, and she enjoys track, basketball, volleyball, cross country, yearbook committee, student council and Youth Power (Say No to Drugs Club) at Carlinville Middle School. She was named 2010 Gateway East Young Achiever, and she took first place in the Drug Smart essay contest in 7th grade. Her essay on Martin Luther King, Jr., placed 2nd in the "Who's a Hero to Me?" contest.
She'd like to add soccer, the school musical, WYSE and Spanish Club to her resume in high school.