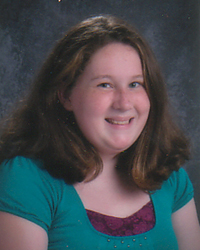 Megan Spence
West Salem
Principal: Mr. Dale Schmittler
No matter what the group, Megan Spence stands out. In fact, Megan has won West Salem's Harry Bradham Scholastic Athlete award twice - as a 6th grader and again as a 7th grader - and it's an award given to only one girl in the entire school.
"There is only one boy and one girl each year who receives this award and they have the highest GPA in the junior high and have to participate in more than one sport throughout the year," Megan writes. "It was a total shock to hear that I had the highest GPA out of the 6th, 7th and 8th grade girls. I was not expecting to receive the award; I thought only 8th graders received awards. This achievement was definitely one that I will always remember."
And then she came back as a 7th grader and won another one. Now, as an 8th grader, Megan has a perfect 4.0 GPA, and she is the winner of the 2010 Scholar Attitude Award from Board of Directors Division N.
Megan competes in softball, volleyball, cheerleading and Scholastic Bowl, and she is a member of newspaper staff, student council, safety patrol, band and choir. She also finds time to work in the cafeteria and to participate in science fairs and spelling bees and to help out with various activities at the First Christian Church of West Salem.
In high school, she plans to continue with volleyball and softball, as well as band and chorus, and she hopes to add Alpha Club, a peer leader group, the Fellowship of Christian Athletes, and National Honor Society onto her schedule. Eventually, Megan would like to attend college to become a pharmacist.