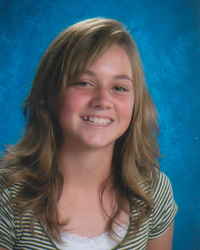 Gabrielle Zerrusen
Newton Jasper County
Principal: Mr. Travis Wyatt
"Always be a good sport, Gab!" is something Gabrielle Zerrusen heard from her parents ever since she was little. "I didn't really understand it," Gabrielle writes. "But now that I am competing, I do."
What she understands is that sportsmanship makes competition fun, that it's counterproductive to get down on yourself or others for making a mistake, that being part of a team means encouraging everybody, and that abiding by the rules is the key to success.
Success is something Gabrielle, recipient of the 2010 Scholar Attitude Award from Board of Directors Division N understands. She's been on the highest honor roll every quarter so far in junior high and is in the top 5 in her class. She took awards for most points and most free throws in basketball, where she was team captain in both 7th and 8th grades, and set a new school record for most points in a game. Her volleyball, basketball and softball teams all won their regionals. And Gabrielle holds the JCJH record for 200-meter dash, as well.
In addition to those sports, she participates in Team Quest, student council, band and jazz band, solo and ensemble music contests and yearbook staff. She was proud to be chosen for Jasper County's CUSD #1 Mission & Goals Committee and to volunteer in sports, preschool ministry and vacation Bible school at her church.
"I am most proud of my accomplishment of being a 6-year State Bible Drill winner," Gabrielle says. "I just hope the Bible Drill program is still around when I have kids. I want them to get the full experience that I got and loved!"