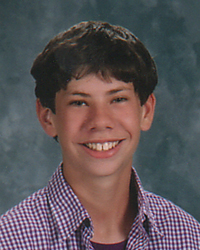 Marty Pesch
Williamsville
Principal: Mr. Rod McQuality
Marty Pesch isn't about to allow a little bad weather to throw him off track. "It's always difficult to get in enough practice for pole vaulting," Marty writes. "Last spring was very cold, wet and windy, so there were not many days that we could vault." But Marty persevered.
In fact, he pushed himself to vault high enough to make it to state. "Coming into the state meet, my best height was 8-3," he remembers. "When I got to state and saw many of the kids going much higher than I had ever gone, I did not expect to be one of the top vaulters. However, during the competition, I just kept jumping higher and higher, and I surprised myself by vaulting 9-6."
That was enough to earn Marty a 5th place medal at the State Track Meet, higher than he'd ever dreamed. To go along with that medal, Marty is now the winner of the 2010 Scholar Attitude Award from Board of Directors Division M.
Marty has also earned a perfect 4.0 GPA, high honor roll status in 7th and 8th grade, and myriad awards in band and concert band for both the clarinet and the tenor saxophone. Marty was a member of his school's Class 3A Regional Championship baseball team this year, and his basketball and track and field teams both took county championships in 7th and 8th grade.
Marty hopes to one day play in the PGA or manage a golf course, and he plans to attend the University of Illinois, like his parents, sisters, aunts, uncles and grandfather before him, to put that plan into motion.