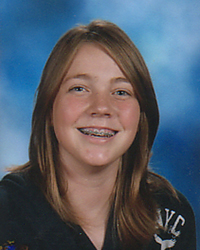 Catherine Justice
Buffalo Tri-City
Principal: Mr. Dave Bruno
When Catherine Justice made the A team in competitive soccer, she knew she had accomplished something. "When I was presented with the opportunity to try out, I was very scared," she says. "I actually cried on the way to tryouts. I overcame my fears and walked onto that soccer field. It turns out I made the A team!"
And that was just the first step in expanding her horizons. "Athletically, I am competing and playing with athletes whose abilities meet or exceed my own," she notes. "My fitness level is greatly increased. Socially, I feel more confident because I now know I can walk into a group of peers I have never met and make new friends."
Catherine, the 2010 Scholar Attitude Award winner from Board of Directors Division M, has a perfect 4.0 GPA, and she participates in volleyball, basketball, track, band, choir and madrigals at Tri-City Middle School. Catherine has made it to state in track, taken 1st place in all the solo and ensemble music competitions she's entered in 6th and 7th grade, earned superior honor roll status every semester, and been named Student of the Month all three years. Catherine also received awards for her defense in basketball and her hustle in volleyball.
In high school, Catherine would like to keep up volleyball, basketball and soccer, and add a role in student council or class office to hone her leadership skills.
Outside of school, she's played club and competitive soccer, rung bells for the Salvation Army, and volunteered at the Animal Protective League. Catherine's love for animals runs deep - if she could make one change in the world, she would stop animal abuse, and she plans to attend college to become a veterinarian.