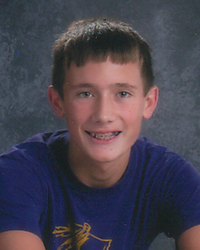 A.J. McNeil
Casey-Westfield
Principal: Ms. Carol Wetherell
"If you set your goal and work hard, no obstacles are hard to overcome," writes A.J. McNeil. He says he's following the path mapped out by his basketball coach, Barry Wolfe.
"Coach Wolfe has made it possible for some players who would not normally have the opportunity to participate to be part of the team," A.J. says. "He has encouraged us to be active in spiritual and charitable events. Coach Wolfe is the person I most admire because he not only teaches us these things - he lives this way. Work harder than the next guy, live life with dignity, and give all the glory to God. This not only works in sports, but in school and life."
A.J. participates in basketball and student council at Casey-Westfield Junior High, and he also plays in the Wabash Valley Junior Football League. He's made honor roll in 7th and 8th grades, received a presidential award for educational excellence, and now A.J. is the recipient of the 2010 Scholar Attitude Award from Board of Directors Division L.
He's acted as a "buddy" for a Special Olympics competitor, served food at the Lighthouse Mission, helped out with a food pantry drive, lent his efforts to recycling, and remained active at Casey First Baptist Church.
He hopes to attend the University of Illinois, where he would like to study history and archaeology. "I am interested in learning more about the Native Americans who resided in Illinois and the surrounding states," A.J. offers. "I would like see how past events can be related to future events in order to predict and possibly prevent mistakes in our future."