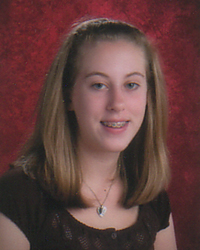 Emilie Emberton
Paris Mayo
Principal: Mrs. Melanie Ogle
Emilie Emberton, the 2010 Scholar Attitude Award winner from Board of Directors Division L, knows what it's like not to be the star of a team, but to show up and do her best, anyway.
"Even though I am on the volleyball team, I don't get to play very much," she writes. But making the team in the first place was a major accomplishment. "All the other girls I was competing against for a spot on the team played two or three years of volleyball previously and this was my first year. I had a very slim chance of making the team but I toughed it out and went to tryouts, anyway. After I found out I made the team, I felt as though I had accomplished something I had never thought I could."
She's also proud that her mom comes to her games, and lists her mom as the person she most admires. "Most people would think that if their child sits on the bench that the parents wouldn't go to the games," Emilie writes. "My mom was there for me almost every game. She said that she didn't want to miss seeing me play if I got in."
Emilie is a member of the basketball and Scholastic Bowl teams, and she plays in the band and jazz band. She has competed in solo and ensemble music competitions, and worked on yearbook staff, student council, and the school's in-house TV studio.
Her achievements include a perfect 5.0 GPA, honor roll every year, and awards for science, reading, educational excellence and good citizenship. She plans to continue Scholastic Bowl, basketball, yearbook, band and student council in high school, and someday hopes to attend college and pursue a degree in medicine.