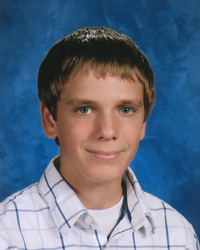 Tanner McLain
Gifford
Principal: Mr. Art Shaw
"Did you have fun and did you do your best?" Tanner McLain's dad asked his teams that in the huddle after every game, forming Tanner's approach to sports and life. "My dad has encouraged me to have a passion for sports, but most importantly, he has been the ultimate role model," Tanner writes. "He doesn't hesitate to give me constructive criticism, but he is the first one to build me up so I can be the best that I can be."
It's no wonder that Tanner himself hopes to be a teacher and coach someday. He describes the kind of person he wants to be as someone who "will lead by example with character and integrity, who will teach the students not only skill and leadership but the value of sportsmanship as well."
Tanner's competitive life has included baseball, basketball and track. He was made a co-captain in baseball and basketball in both 7th and 8th grades, named Mr. Defense in basketball, and received his school's Golden Glove award for baseball. He also set school records in the 4x4 relay and the mile in track. His AAA traveling baseball team took the AAYBA world championship, earned 2nd place in the USSSA Illinois State Tourney, and finished as USSSA NIT champions.
Off the field, Tanner has acted as vice president (7th grade) and president (8th grade) of student council. He is a member of the National Junior Honor Society and the recipient of the 2010 Scholar Attitude Award from Board of Directors Division K.
He hopes to keep basketball, baseball and student council, and add football and the Fellowship of Christian Athletes to his crowded schedule in high school.