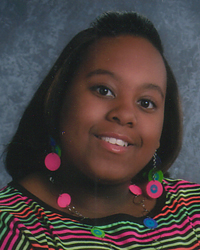 Chelsea Thomas
Danville North Ridge
Principal: Mr. Mark Goodwin
For Chelsea Thomas, winner of the 2010 Scholar Attitude Award from Board of Directors Division K, sportsmanship is elementary. "Have you ever gone to a park and watched little ones playing a game?" Chelsea asks. "When the game is over, regardless of the wins or losses, it's all about getting to the Popsicle stand."
At North Ridge Middle School, Chelsea has taken those good spirits into her performances with the Radiant Reds and Redcoats show choirs, student ambassadors, Future Problem Solvers, National Junior Honor Society and MTEA (Minority Teachers' Education Association).
In academics, Chelsea has earned high honor roll, and she has participated in AVID, a rigorous college preparatory program. Because of her AVID work, Chelsea has already received a college scholarship. She sings with church and community choirs, is a junior debutante with Alpha Kappa Alpha, volunteers in her church and helped with children's crafts for the Festival of Trees.
In high school, she plans to continue with show choir and add student council, yearbook and Pompettes, looking forward to working with her peers and group camaraderie as well as singing, dancing and traveling. After high school, Chelsea's mind goes to health care. "If I could make one change in the world it would be to enable all people to have equal access to quality healthcare," she says. "It is every human being's right, during a time of illness or need, to be treated with respect and dignity."
Chelsea herself hopes to go to WIU in pre-med. "I want to be a doctor because I love to help people and to be there for them when they need someone most."