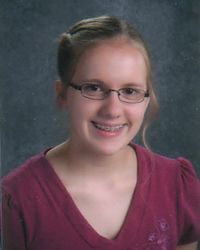 Allyson Quick
Ashland A-C Central
Principal: Mr. Dan Williams
Allyson Quick enjoys exploring the possibilities. If you ask her what her most memorable moment is, she can't settle on just one. When she thinks about what she wants to do with her life, again, Allyson likes to keep a variety of options open.
"I have many interests so I do not know for sure the specific field I will be majoring in," Allyson writes. "I was actually considering a double major, and even then it will be hard to decide. I do think I will continue on in the study of my favorite subjects, math and science. I may decide to take a minor in photography, my present hobby."
Math, science, photography... add piano, French horn, singing, speech, basketball, volleyball, student council and Environthon, and you begin to see what Allyson's middle school years have been like. She's made high honor roll in 6th, 7th and 8th grades, she competed in three different events in music contests, and she spent three years at Pioneer Camp at Lincoln's New Salem. After taking 2nd place in a Math Olympiad in 2009, Allyson was the 2010 Middle School Spelling Bee champ for A-C Central. Allyson is the 2010 Scholar Attitude Award winner from Board of Directors Division J.
In high school, she would like to continue basketball, student council, band, choir and Environthon, adding FFA, STAR, Spanish Club, Model UN, and high school theater to her schedule.
When asked what she would change in the world if she could, Allyson is both philosophical and practical. "I guess the most obvious answer would be to take all the hate and violence out of the world," she offers. "The most important thing to remember, though, is to just be kind and help out as much as I can in my community."