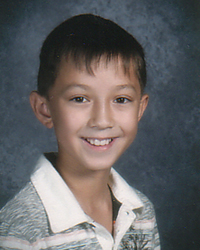 Ryan Wang
Lake Forest Deer Path
Principal: Mr. John Steinert
Ryan Wang, winner of the 2010 Scholar Attitude Award from Board of Directors Division A, is in the business of excelling. It's what his teachers and coaches say about him now, and what they've been saying since he took up tae kwon do at the age of five.
Since then, Ryan has earned a 2nd degree black belt and competed in AAU Nationals, taught tae kwon do to disadvantaged youth, run cross country, maintained straight A's at school, participated in Latin competitions and the National Geographic Geography Bee. He was also selected as one of two "10th Congressional District Scholars" in a program designed to identify future doctors and scientists, and won the DPM Star Award for Citizenship in October, 2009.
But it is in wrestling that Ryan has really found himself. "I started wrestling in 6th grade, much later than many other kids on my team," he writes. "I broke my arm in the middle of the season, but came back to wrestle in 7th grade. Now I'm in 8th grade and I am having a great season with a record of 17 wins and 2 losses so far. I am honored to be chosen as team captain this year and I hope to go to state."
In high school, Ryan plans to compete in wrestling, track and field, tae kwon do and Latin, and maybe even take up the guitar, and he hopes to attend Stanford University. He writes that "Sportsmanship comes from the way you conduct yourself as a person and as an athlete - when others are watching and when they are not, when you are competing and when you are not, when you are winning and when you are not."
With that attitude, Ryan will always be a winner.