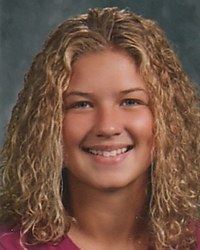 Elyce Trout
La Harpe
Principal: Mrs. Lila McKeown
For Elyce Trout, recipient of the 2010 Scholar Attitude Award from Board of Directors Division J, life just adds up. And even though she excels in a lot of different areas in and out of the classroom, it's math that she thinks she wants to stick with.
"I would really like to become a math teacher someday," Elyce writes. "I enjoy math the most during school and I think this is something that I would really be good at."
Elyce's report cards are filled with As in everything from art to science and social studies, and she has a perfect 4.0 GPA for both 7th and 8th grade. "So far in my life, I am most proud of my grades," Elyce says. "I have been on high honor roll every quarter of my junior high career." In addition, she participates in her school's Honors Group and was voted onto student council as well as graduation marshal by her peers.
She competes in basketball and track, as well as volleyball, and she counts her volleyball team's 2nd place finish at state in 2009 among her most memorable achievements.
When not in school, Elyce plays on a traveling softball team, attends basketball, volleyball and church camps, babysits and mows lawns. She's hoping to keep up basketball and volleyball in high school, and add softball to her school schedule.
No matter which sport she's playing, Elyce believes in one common denominator. "I believe that sportsmanship is the most important thing in any sport," Elyse tells us. "Sportsmanship to me means playing hard, playing fair, and having a good attitude." She adds, "If you show good sportsmanship, you will succeed." So far, Elyce's formula is adding up just fine.