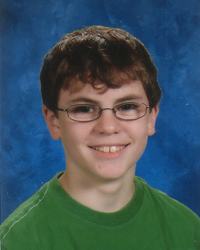 Matthew Langdon
Lincoln Chester-East Lincoln
Principal: Ms. Victoria Childs
Matthew Langdon, winner of the 2010 Scholar Attitude Award from Board of Directors Division I, knows it's not easy standing up in front of people and speaking out. "As a member of the speech team," he writes, "I always try to use good sportsmanship. Everybody on the speech team deserves to be congratulated just because they have the courage to perform."
Matthew is most proud of one particular speech. "The feat that I have achieved in my life that I am most proud of is when I got the Judge's Choice Award at the state speech tournament," he writes. "I was performing my speech in front of Ken Bradbury, who writes many speeches for junior high speech participants to perform. To think that I got a state speech Judge's Choice Award from a writer of many speeches was a great honor."
Matthew has participated in band, student council, track, Math Counts and spelling bees, but it's clearly speech he enjoys the most. In high school, he plans to try out for speech team, Group Interp, contest play, fall play and winter play. He's chosen them because they're fun, but also because he knows they will help him better his performance skills and have more confidence in public speaking. He also looks forward to marching band and pep band in high school.
Three times nominated for Chester-East Lincoln's Student of the Month, Matthew won the honor in October, 2009. He's also earned nine 1st place ratings in solo and ensemble music competitions, high honors six times so far, and a perfect 4.0 GPA.
In his spare time, Matthew bowls, takes piano lessons, and works with the First United Methodist Church Youth Mission Team.