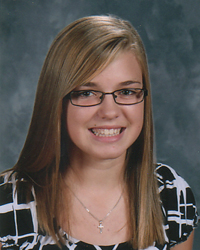 Michelle Paulus
Lincoln West Lincoln-Broadwell
Principal: Mr. Bailey Climer
Michelle Paulus has worked hard to balance the different pieces of her life. It isn't easy, but Michelle wouldn't have it any other way.
"The single feat that I am most proud of is that I am a three-sport athlete and involved in the community, while excelling academically," Michelle writes. "Today you don't just practice during that season, you practice all year round with camps, traveling teams, and tournaments. Even with being a three-sport athlete, I still give back to the community through 4-H and my church."
Michelle is the 2010 Scholar Attitude Award winner from Board of Directors Division I. She calls herself a three-sport athlete, but her resume includes volleyball, basketball, softball and track and field. She was also a member of the West Lincoln-Broadwell 7th grade cheerleading squad that took 2nd in state, and she's been on student council the last three years. Her 4x100 relay qualified for state in 6th grade, and her 7th grade volleyball team won the Logan County championship.
On the academic side, Michelle is a straight A student with WLB high honors in grades 6-8. She took 3rd in the school spelling bee, is a member of 4-H Club, club volleyball and traveling softball teams, and has won awards in science and band. She has also crewed hot air balloons, exhibited dairy cows at the county fair, and worked at the Illinois State Fair Pork Patio.
Michelle would love to keep up with all her sports as well as student government and pep club in high school, and she hopes to become a physical therapist in the future.