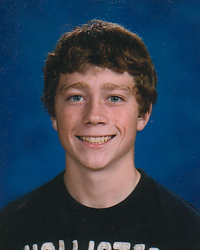 Chester Griffith
Washington MS
Principal: Mrs. Diane Orr
Chester Griffith appreciates the variety in life - in his activities and sports, in his volunteer choices, and in his friends. "I am proud of the fact that I don't belong to any one 'clique' at my school," Chester tells us. "I am lucky enough to have many friends and not all of my friends have the same interests. I hang out with the math kids, the Scholastic Bowl kids, the kids who are in chorus and band and sometimes I hang out with my teammates." He adds, "In college and the real world, you need to be able to get along with a variety of people and learn to accept them for who they are."
Chester has maintained a perfect 4.0 GPA while being involved in everything from announcing basketball games for younger kids to the Math League and the Red Ribbon and teen conference planning committees. Chester plays basketball and track and field and has made it to state in both, and he's a member of the baseball and Scholastic Bowl teams; the Singsations choir; jazz and marching band; and Not in Treble, an a cappella group for boys. He's this year's student council treasurer, he tutors struggling math students, he participated in a mock debate, and he sang and danced in three different musicals on stage at Washington Middle School.
He's won his school's 8th grade Spirit Award and the Marjorie DuBois Citizenship Award, taking part in numerous volunteer and community activities, from caroling at nursing homes to delivering Meals on Wheels and helping disabled students go through the IHSA March Madness Experience.
Chester, the recipient of the Scholar Attitude Award from Board of Directors Division H, hopes to go to Northwestern University to study psychology some day.