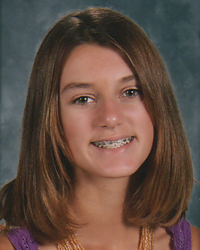 Demi Fritz
Normal Parkside
Principal: Mr. Kenneth Lee
Demi Fritz, 2010 Scholar Attitude Award winner from Board of Directors Division H, knows what it means to sing out strong, even when all eyes are on her. "Singing the National Anthem a cappella is not something all singers can accomplish," Demi writes. "I am proud to be successful at this because it is something that I had been working hard at for many years. The chance to share my singing ability in a song that means so much to the American people has been an honor for me."
In this case, a lot of practice and the ability to get past her nerves made all the difference. It didn't hurt that she had a good example at home to show her the way. Demi chose her older sister as the person she most admires. "She has been a role model to me with the amount of determination that she has in herself, and this has changed the way that I look at myself," Demi says. "It is because of her that I try hard to do my best and have a positive impact on the lives of others, too."
Demi competes in cross country and softball, and she is a member of Parkside's speech team, pom pon squad, student council, concert choir, girls ensemble, and concert, jazz and honor bands, She also enjoys Spanish, art, book and math clubs, and she acts as a peer mediator.
Demi is a straight A student, and she has won awards in band, choir, social studies, physical fitness and citizenship. She studies piano, voice and dance, and is a member of summer swim and softball teams.
Demi looks forward to continuing to sing and dance throughout high school, and continuing to stay busy with a wide variety of sports and activities.