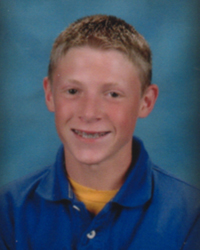 Brandon Crockett
Manteno
Principal: Mr. David Conrad
Brandon Crockett is all about positivity. "If you approach a game with a good attitude," Brandon writes, "you will have a higher chance of winning. A positive attitude usually follows with positive results."
Brandon learned that spirit from his dad, his most-admired person. "He has taught me everything from academics to sports to working on a car," Brandon says. "I want to be just like him to my kids and be a great father. He has been my coach for almost all the sports I have participated in outside of junior high. I really thank him for that."
Since Brandon has been very busy outside school, that encompasses a lot. There's traveling baseball, a recreational baseball team, intramural basketball, all-star baseball, Old Mill soccer and recreational soccer. Brandon has also done stints with the police academy and St. Joseph altar and community service. At Manteno Middle School, he's played basketball and baseball and also participated in Scholastic Bowl and band. In 2009, he was named to EIU's Middle School Honor Band.
Among his achievements are honor roll all three years, a Gold Glove award in baseball, and National Band and All-American Scholar awards. His basketball team won the Kan-Will conference title last year, while his Scholastic Bowl team came in second. Brandon has also competed in science competitions, earning 1st place in the regional science fair and collecting several awards in Junior Academy of Science contest.
Brandon has won the 2010 Scholar Attitude Award from Board of Directors Division G. "Good sportsmanship can bring you a long way. Good sportsmanship says a lot about you as an individual," writes Brandon. "I am honored to be nominated for this award."