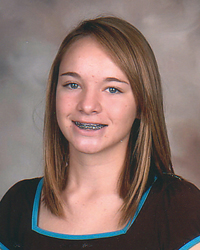 Addie Masching
Herscher JHS
Principal: Mrs. Michelle Chavers
"I want to be remembered for what I did, not for what I didn't do." Addie Masching heard those words from her mother, and they really struck a chord.
As Addie says about her parents, "They taught me everything I know about kindness and respect. They are truly good people." She adds, "They taught me to help others with courtesy and compassion."
Addie carries those lessons over to her junior high experiences, trying to infuse pride, integrity and leadership into her basketball, volleyball, speech and student council experiences. In fact, Addie was elected president of the Herscher Junior High Student Council this year. "It was really rewarding for me," Addie writes, "because it told me that people believed that I was a leader. "
Addie received two 1st place awards in speech contests, competing in both dual and individual events. She has also worked in the school library, ushered at graduation, and she attended the Straight A Banquet last year. Given her perfect 4.0 GPA this year, she will undoubtedly be attending that banquet again as an 8th grader. Addie is the 2010 Scholar Attitude Award recipient from Board of Directors Division G.
Outside school, Addie is active with Sacred Heart Church as a lector, altar server and volunteer, and she also enjoys babysitting, scrapbooking, running, summer league softball and water and snow skiing.
She looks forward to continuing student council, softball and basketball in high school, and hopes to attend college and med school, to become a pediatrician in the future.