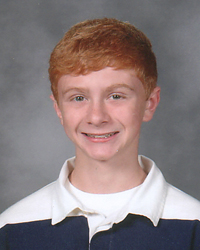 Tate Kennedy
Peoria St. Philomena
Principal: Mrs. Jodi Peine
When you hear that Tate Kennedy's most-admired person is Dean Kamen, inventor of the Segway as well as portable insulin pumps and dialysis machines, heart stints, and a wheelchair that can climb stairs, you know immediately where Tate wants to go in life.
Tate, winner of the 2010 Scholar Attitude Award from Board of Directors Division F, writes, "I admire Dean Kamen because he is not only one of the greatest inventors of our time, but he is also able to recognize basic human needs and find ways to help others."
His grades are perfect across the board, but it's science that captures Tate's imagination. "I'm interested in a science and engineering-related field," he tells us. "I really want to become an inventor or futurist."
Tate has laid down an excellent platform, with Scholastic Bowl, basketball, soccer, track, student council and speech team on his resume. He's a two-time recipient of the Catholic Leadership Award as well as reading and writing awards, and he has maintained his place on the A honor roll throughout his school career.
He has served as student council president and captain of the soccer team, earned 1st place honors in both duet and monologue with the speech team, and placed 1st with his Lego League team for its Regional Robot Table Performance.
"I wish that everyone would realize their talents at an early age and then have the support and resources to utilize them," Tate writes. "If we could somehow tap into the abilities of everyone in the world, not just the privileged, we could make a big difference in solving a lot of problems." Words of wisdom from Tate Kennedy, futurist of the future.