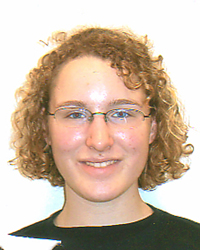 Emily Meyer
Elmwood
Principal: Mr. Tony Frost
There's a certain curiosity in how Emily Meyer approaches the world. Whether it's tackling the People to People program and learning about China and its culture, diving into Jane Austen novels, or sharing her enthusiasm for everything scientific, Emily just loves to learn.
Emily has competed in softball, track, volleyball and speech at Elmwood Junior High, and she's also played clarinet in both the junior high band and the junior jazz band. She loves the fact that her clarinet makes her more creative and that being in band opens up a whole different set of friends. Then there's Scholastic Bowl, which offers all kinds of new subjects to learn about. And her favorite, the Science Olympiad.
"Science can explain almost everything," Emily says. "If I can learn as much as I can about science, I will be able to make connections to how or why one thing works to another. Plus it's really fun."
She's also taken ballet, point and tap classes since 1998, volunteered with the youth ministry at her church, done Bradley University's band program, and traveled to Germany, Italy and England to find out more about her family's culture. Her People to People trip last summer included a trip to China as well as meeting lots of other American students.
Emily has earned high honors every semester, and she has a perfect 5.0 GPA. She made the West Central Conference Honor Band 1st chair in 7th and 8th grade and she took a 1st place in regional speech competition for impromptu acting. She is now also the 2010 Scholar Attitude Award winner from Board of Directors Division F.