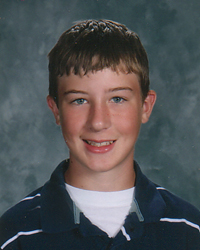 Carter Frambes
Forrest Prairie Central
Principal: Mrs. Tonya Dieken
"When the final buzzer sounds, a true athlete realizes that there is much more to sports than winning or losing," writes Carter Frambes, the 2010 Scholar Attitude Award winner from Board of Directors Division E.
"While the outcome on the scoreboard is important," he continues, "the main purpose in interscholastic sports is not to see how much better one team is over another." The true lessons, Carter concludes, are "self-respect, respect for peers and authority, and being gracious whether in victory or defeat."
And even though Carter hopes someday to go into sports broadcasting or sports information, combining his love of sports with his communication skills, he still counts his academic achievements as his proudest moments. "Even though I participate in a great deal of extracurricular activities, I have managed to maintain high honors and high grades during the two years in junior high," he writes. "I enjoy sports greatly, but my academics have been, and will continue to be my top priority."
Carter has been a member of the baseball, basketball, and track and field teams, and he has also participated in speech club and student council. He is vice president of the student council this year. He also helped organize Operation Mend, a charity offering facial reconstruction to soldiers returning from Iraq.
Carter has earned high honors every quarter, and won awards for spirit and positive attitude, for speech and for his essay in a VFW contest. He's also a member of Space Age Pioneers 4-H Club, and he hopes to serve on Student Senate as well as play golf, basketball and baseball in high school.